Spending Quality Time with Your Search Log
Thanks to Marco Dini for the Italian translation to this article.
On most sites, users look to on-site Search after they've scanned the page for clues to the content they're seeking. A quality Search experience is critical to making users happy, yet many teams don't spend nearly enough time looking at that experience.
One place to start is the Search Log. Spending a little quality time with it, on a regular basis, is a great way to learn more about how people use your site.
Interestingly, the search log is often not part of a site's regular analytics package, so you need to create and curate it separately. Even when it is, we find that it's often ignored in many of the regular reports.
Here are just a few of the useful things you can learn from a close inspection:
What Are Your Top Search Terms?

The top search terms is a window into your users' thinking as they explore the site. Learning your top terms is a critical first step.
Can your stakeholders predict the top 10 terms? Play a little game with your stakeholders to focus them on what users look for. You can give a prize for anyone who can get all 10 correct, three months in a row. (Give them a bonus if they get them in the right order each time.)
Do your terms change because of seasons? Some sites see surges in terms due to cyclical patterns. For example, universities may see financial aide searches increase as admission deadlines get near, while banks may see requests for tax reports right before tax day.
Do they change because of rising topics? Can you predict when a new topic will rise to the top 10? Business changes, such as new product announcements, could easily push something up. Were you ready for it?
Does each top term produce a quality results page? Once you know the top terms, have you searched on each one, to see what the users see? You'll be surprised how many folks miss this step.
For your top terms, the most important pages should come right to the top. (You may have to force them, using a forced "best bets" results strategy, if they don't pop to the top organically.)
Do the top terms match your most popular pages? For many sites, the most popular pages won't match the terms, because users are discovering them without searching.
This is good, but it begs the question: Should a top term have an easy way to discover its content without requiring a search? Adding a navigation element could reduce the users' need to search on that term.
What Pages Do Your Top Terms Come From?

For each term, what percentage comes from the home page? Most of the sites we've studied show a small percentage of searches generated from their home page. On one e-commerce site, selling primarily women's apparel and home goods, only 7.5% of the searches originated from the home page.
For many sites, this is the way it should be. On most sites, we found users are 50% more likely to find their content if they don't use search, so for the most important content, we want links to be highly visible and the scent of information to be clear. However, that begs the next question…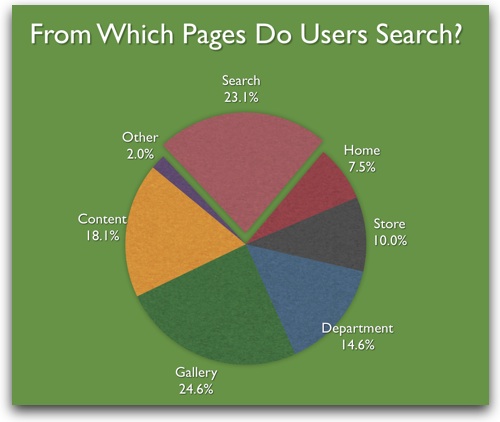 How far into the site before users start searching? In our e-commerce example, 50% of the searches came from the department, gallery, and product pages—deep inside the site. Most users clicked on more than three links before they decided to search.
If users are searching from deep within your site, are those pages missing the scent users need to continue? It's possible, with some re-jiggering of your site's local navigation, you could improve the user's experience while eliminating their desire to search for a top term.
What Are the Top Terms for Pages on Your Critical ClickPaths?

When users are seeking important content, they follow the critical clickpath. With each click, they have an option: follow the navigation to their goal, or try to use search. If you find that users reach for search from pages on that path, the top terms from those specific pages could yield interesting insights.
Are users turning to search before they reach the content? This might be a clue that the scent trail has petered out. Adding the terms to the page is a great way to keep them clicking. On the apparel site, we found "clothing" on the "Outlet" page. Talking to shoppers, we discovered they were looking specifically for discounted clothes—hard to find from that page, which had all types of items.
Are users turning to search once they reach the content page? They might be telling you that your content is incomplete. On a site selling cameras, we saw many queries for "specifications" from the product pages. Shoppers wanted more details about each product than the site was providing.
What Percentage of Search Happens On Search Results Pages?

Are users telling you that your initial search results aren't effective enough? From the chart, we can see that 23% of our searches came from the search results page. Most of the time, it means that the user didn't like the original search results. Looking at the subsequent query can help identify important results problems.
Do certain top terms have more re-searches than the norm? By looking at the top terms specifically, you can see if the results for certain terms are more problematic than others on the site. You can fix this by tuning the results for those specific terms.
Which Terms Are a General Category?

Sometimes, a search term will be the specific name of the desired content: "Mission Impossible III" or "Britney Spears". When this happens, it's clear what the user wants.
Other times, the user will ask for something more broad: "salsa music" or "cancer treatments". Here, they've entered a category, which happens when they don't know specifically what to look for.
Are users telling you that the categories on your site are incomplete? Users often enter categories into search when the navigation is incomplete. If one of your top terms is a category, users might be more successful with that as a navigation element, not requiring search.
Spending Quality Time with Your Log

It's worth the effort to work with your IT team to instrument your site's search effectively. Have them log the terms and the pages searched from. Produce reports that group pages by type and depth in the clickpath.
With clever instrumentation and reporting, you can put together benchmarks for your search that will help identify problems quickly. Then, spend quality time on a regular basis—say every month. Get to know your log and you'll create a great experience for your users.
Published here on January 6, 2010.
Taking Control of Agile UX

Piece together an effective process that actually works for your team.

Intensive led by Jared Spool, October 16-20
Together, let's craft an Agile UX process that delivers innovative designs to our customers and users. And explore the new skillsets, toolsets, and mindsets behind successful Agile UX execution.